05 Jul

Audi Joburg Fashion Weak (Week)
Abigail Betz
Everyone I know and everyone who knows me knows I love Fashion Week, or should I rather say Fashion Week(s). For those four days, of whichever fashion week is on, I am completely inaccessible to anyone. Friends talk about how I've neglected them, my boyfriend knows he'll have more time for Playstation 3 and my parents know that I certainly won't be coming to visit that weekend.
My love for fashion week began with the sketches I'd make during my school holidays of the dresses I had seen in magazines from the ramp. FTV nurtured this love, by affording me the chance to see what was on the runway without having to watch a video online with a tiresomely slow internet connection. I fell really hard and head over heels, the year I experienced my first ever fashion week, when I took leave whilst working at an animation studio; to go to what was then Sanlam SA Fashion Week.
Kluk
Having never been to any event solely dedicated to fashion, I found myself wanting to experience fashion week every year. I was completely enamoured with everything, the ramp, the models, the editors who's faces I knew from the magazines. Having never, even to this day, been to one of the big fashion weeks – Milan, Paris, New York, I believed that our one a million fashion weeks was the ultimate fashion event.
A lot has changed since the day I bought my tickets to SA Fashion Week. Jaded, I am indifferent to the gift bags and don't care much about what I wear for those four days. Which if you knew me at the height of my fashion week madness, is very sad to hear and note. Perhaps it is because I no longer work at a magazine, or that there have been so many fashion weeks for me to attend. Or maybe the article in the July issue of Elle Magazine, resonating my thoughts and the thoughts of many others regarding fashion weeks in South Africa planted a seed of negativity in me, whatever the reason, when the 30th of June came around and Audi Joburg Fashion Week started, I found myself uninspired to make my way to the Sandton Convention Centre.
Uninspired I still managed to get dressed in a cream blouse, grey high waisted pleated peg leg pants and vintage pumps to go and watch Heni's show at 19:30, only to discover that the 18:00 show hadn't gone on yet when I arrived at 19:20. Surely running and hour and a half behind schedule was unacceptable and further to that expecting people to stay until midnight to watch David Tlale's show initially marketed to start at 21:30 was inconsiderate?
David Tlale
I know that internationally there are stories of globally reputed fashion weeks and internationally renowned designers like Marc Jacobs running behind schedule. And I have experienced time delays at fashion week on numerous accounts, but to put it mildly I honestly thought that AFI was taking the piss with this one.
Looking around I was amazed as people simply shrugged their shoulders at the delays and continued to sip on the over-priced glasses of wine, as they waited for the shows to be called. Are we really all condoning King David's ridiculous indiscretion? Is it okay for things at fashion week to be so terribly disorganised?
I reckon if I were drunk, not tipsy, I would have had a little bit more patience for this complete disregard for people's time. Speaking to one of my friend's who works at a very prominent fashion magazine I could see the sheer irritation in her face as she told me that she had been at the convention centre since 15:00. Further to that she had a shoot the following day at 08:00, but had to stay till the end because this was part of the job and she was a professional.
Organisation's that host fashion week have one job to do: provide (in the opening words of the Elle article) a "platform for designers to showcase their vision for the season ahead." This platform needs to be professional and well run, so that the financial spend incurred by a designer in putting together a collection is not lost amongst rumours of disorganisation and bad public relations.
Designers stand under the umbrella of a fashion week and as a result of this, it is the organisation putting together a fashion week's responsibility to nurture the relationship with the press and public on their behalf. If the said fashion week has a tarnished reputation or has a badly organised show schedule, with staff on the floor that do not know what is going on, the designers are inadvertently affected as irritated editors and writers wait around for the show to be called or worse, choose to leave the event before all the shows are over for fear of passing out from not being fed the entire day.
Luckily for these organisations the talented and well known designers that keep showing at their fashion weeks have got enough pulling power to keep audiences coming back, as I was reminded when we finally filed into Heni's show, which started on the other side of 20:30. My irritated frown softened as the lights dimmed, and the ramp was revealed. As the first model walked out, I remembered why I love fashion week – the anticipation and excitement of falling in love with a new designer or falling in love with and old designer all over again.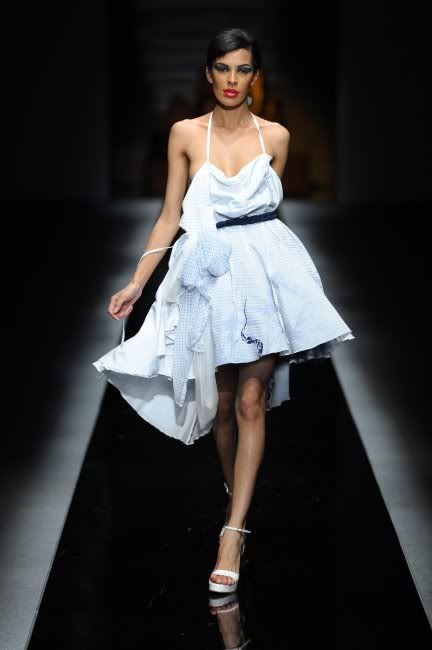 Heni
Ituen Basi
Photography by Simon Deiner