11 Aug

magazines: this really upsets me

Okay, so a couple of months ago when Elle released their April issue with Alek Wek on the cover, I shared my feelings about how Italia Vogue's 'Black Issue' upset me… Now I am even more upset because of this…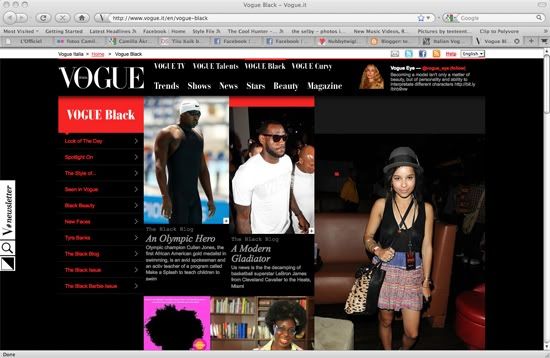 Granted, I am a few months behind on this news, but when I saw this, I was mortified. I am not a racially charged person and believe me this blog is not a place for me to air my views on such matters as race, politics or ideology, but this, people is just plain colonial thinking.
Why do black celebrities, black stories, black fashion and black style have to be profiled separately by the western world? I know that there are black focused publications like Ebony, Essence and locally True Love and such, but those came about simply because black women and black people in general were not being reflected in the main stream publications at the time. And we all know for one to consume and participate in the consumption of any element of popular culture, one needs to see an aspirational version reflected in that media, be it a commercial, a magazine editorial etc.
I guess what is upsetting me is that by doing this, Italia Vogue is actually saying that they consider black people and curvy women (there is a Vogue Curvy too) 'the other,' not normal, different and in opposition to them – the standard. And that this difference needs to be studied and documented like something alien to them that they do not understand. This is what this Vogue Black and Vogue Curvy says to me. They are basically saying to Tyra Banks and Zoe Kravitz and the other black people profiled: "we think you're pretty cool… for a black person."
Check this B.S out for yourself: http://www.vogue.it/en/vogue-black