17 Oct

who loves missibaba bags? me!
I love Missibaba bags! So much so, that my gorgeous yellow "baby bow" sling bag is starting to look like it has been passed down from generation to generation.
I love that they are locally made and that the design aesthetic is unique, beautiful, experimental and recognizable. Once you have seen a Missibaba bag, you remember what it looks like; the name sticks in your head and rolls off the tongue quite nicely.
For this reason and because I actually can't imagine my shoulder unadorned with these bags, I have decided that I deserve a little bit of spring time retail therapy… and because I am in a total body transition (my body is getting ready for summer) an accessory will do just fine thank you.
Whilst doing my regular morning internet surfing session: where I open up millions of tabs and look at fashion blogs, online shopping websites and daydream in the morning about my new wardrobe, I came across Missibaba's new Spring Summer 2010 collection and in particular the saddle bag (below)!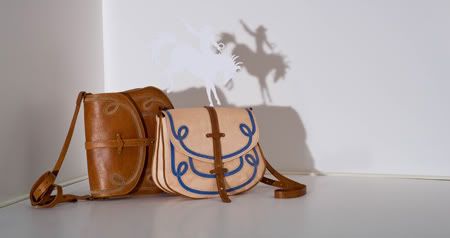 I'm not a cowboy kinda girl, but when I saw the nude satchel with brown piping and leather strap detail finished off with the blue leather ornamentation I have decided that I could definitely "yee-ha" for this bag! (That was lame and cheesy … and I know it… so ssshhh!)
I love this bag, because it's a sling bag and it reminds me of an old Hollywood western, smoky saloons and blowing tumbleweeds…
You won't catch me dead in a pair of cowboy boots, but I feel like this bag could be the start of a new look for summer…
@font-face { font-family: "Times New Roman"; }@font-face { font-family: "Arial"; }p.MsoNormal, li.MsoNormal, div.MsoNormal { margin: 0mm 0mm 0.0001pt; font-size: 12pt; font-family: "Times New Roman"; }table.MsoNormalTable { font-size: 10pt; font-family: "Times New Roman"; }div.Section1 { p